History
In 2005, the Long Range Planning Committee of the local Delta Chapter was formed with its objective to strategically position the chapter to generate continuous long-term financial growth as a means to begin the process of securing a permanent facility.

The members of the committee consisted of several Charter members and other interested chapter members. When the cost for rental of a building was explored, it was concluded that the Chapter needed to move in the direction of pursuing its own property. The focus of the committee changed to securing a non-profit Foundation to work with the Chapter to secure a facility.

The committee worked diligently on developing the Articles of Incorporation and ByLaws to submit the Application for Recognition of Exemption. The names of the incorporators (signees) were: Fara Bostic, Carla Collier, Beverly Marshall, Delia Parker Mims, Val Morgan & Dorothy Watts. On May 2, 2006, The Certificate of formation was filed with the Office of the Secretary of State of Texas for the establishment of the Delta Public Service Foundation of Denton County, a non-profit corporation.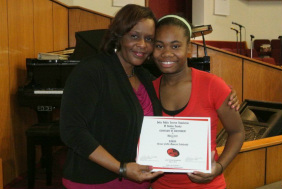 Activities:
Annual "Bowling For Scholarship" BOWL-A-THON
April 2016

Bernice Griffin Memorial Scholarship
Bernice Griffin Memorial Scholarship—awarded each May to a graduating senior in honor of Mrs. Griffin, the first member of the local Delta Chapter to enter the OmegaOmega Chapter in May 2011. Bernice Griffin Memorial Scholarship to a Denton County graduating senior. Though academics will be taken into consideration, this scholarship is not solely based on academic achievements; it will be based on other characteristics. The Foundation will be seeking to award an applicant who exhibits perseverance, integrity, endurance, strength, honesty and other such qualities that also deem students successful as they continue their academic endeavors beyond high school. For more information and to apply for the scholarship, please contact Dorothy Watts at dpsf_dc06@yahoo.com

Marilyn Hunt Williams Community Service Award
Marilyn Hunt Williams dedicated her life to service and challenged everyone to help foster a culture of service, citizenship and responsibility.

The Delta Public Service Foundation of Denton County (DPSF) created the Marilyn Hunt Williams Community Service Award as a way to thank and honor students who, by their demonstrated commitment and example 1) inspire others to engage in volunteer service, 2) set a standard for service to others and, 3) inspire others to make volunteering a central part of their lives.

GO TO THE SCHOLARSHIP TAB TO MAKE A TAX DEDUCTIBLE DONATION